Monday November 30- Morning Weather – The Bill and Kali Show Schedule brought to you by Lerner and Rowe and ExecutiveSuites2
NWS – Weather for the Chicago and Michiana Area
---
Forecast
Today 50% chance of snow showers before late afternoon with a high of 32-36 and winds clocking in at 35-40 mph. As they say…"Blustery" conditions tonight with temps dipping down to 26 with winds clocking in at 30-40 mph. I know we don't like that word "Blustery" . It is in that "Do Not Like" worklist right along with that infamous word "Moist" Tuesday the sun returns with a high of 37. Wednesday sunny with a high of 43. The remainder of the work week looks pretty good with partly sunny to sunny days and temperatures ranging from 41-45. Beyond today, no precipitation forecasted for the remainder of the week and weekend.
Monday A 50 percent chance of snow showers, mainly before 3pm. Cloudy, with a high near 34. Breezy, with a north wind 20 to 25 mph, with gusts as high as 35 mph.
Monday Night Mostly cloudy, with a low around 26. Blustery, with a northwest wind 15 to 20 mph, with gusts as high as 30 mph.
Tuesday Sunny, with a high near 37. West northwest wind 10 to 15 mph, with gusts as high as 20 mph.
Tuesday Night Mostly clear, with a low around 27. West northwest wind 5 to 10 mph.
Wednesday Sunny, with a high near 43.
Wednesday Night Partly cloudy, with a low around 29.
Thursday Partly sunny, with a high near 43.
Thursday Night Partly cloudy, with a low around 29.
Friday Mostly sunny, with a high near 41.
Friday Night Partly cloudy, with a low around 30.
Saturday Sunny, with a high near 45.
Saturday Night Partly cloudy, with a low around 32.
Sunday Mostly sunny, with a high near 43.
---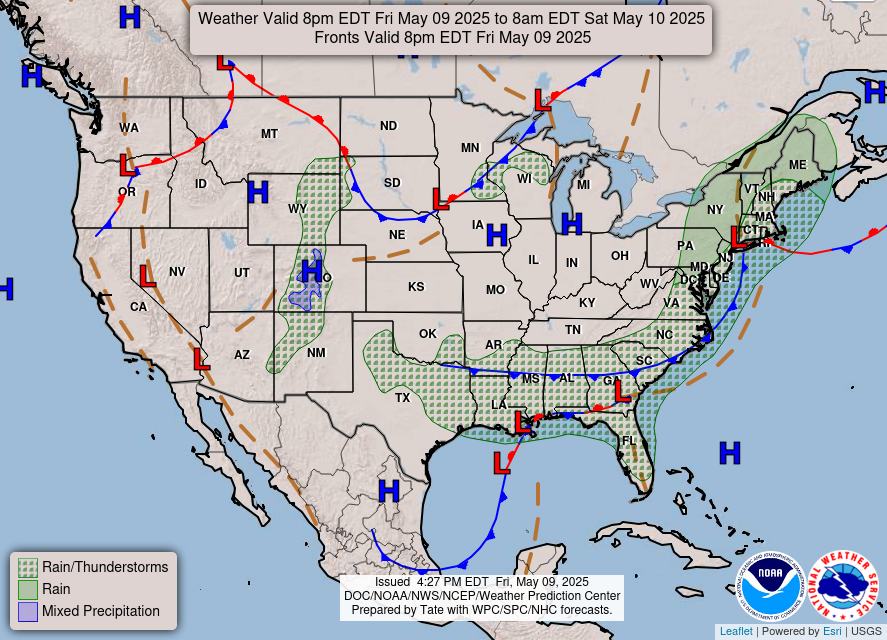 National Short Term Outlook
Moderate to heavy rain will spread from the Deep South to the entire East Coast over the next couple of days with severe thunderstorms possible across the Southeast and the Mid-Atlantic coast.
Accumulating snow expected for parts of the Ohio Valley and the central/southern Appalachians with heavy snow likely downwind from the lower Great Lakes.
Elevated Fire Weather Risk for parts of southern California and northern High Plains.
A developing low pressure system will bring widespread inclement weather across the eastern U.S. through Tuesday. The center of this system is forecast to track rapidly up the spine of the Appalachians today as rain well ahead of the storm center spreads northward through the entire eastern U.S. The system will get stronger and expand in size through tonight, leading to increasingly blustery winds with embedded heavy rain reaching New England by tonight. In addition, severe thunderstorms are possible across parts of the Southeast and along the Mid-Atlantic coast ahead of a strong cold front. Meanwhile, the large circulation of the storm will draw colder air across the Great Lakes toward the Ohio Valley today, changing the rain into wintry precipitation in these areas. Accumulating snow is expected to last into much of Tuesday across the lower Great Lakes to the Ohio Valley with heavy snow likely downwind of Lake Erie as the storm becomes slow-moving across of the Northeast Tuesday night. The snow is forecast to reach as far south as the higher elevations of the southern Appalachians under a cold and blustery northwesterly winds in the wake of the storm.
Moisture associated with another Pacific frontal system will continue to bring rain and wind near the coast of the Pacific Northwest and mountain snow farther inland. Some of the snow should reach the northern and central Rockies on Tuesday. By early Wednesday, return moisture from the western Gulf of Mexico should bring rain into the southern Plains while interacting with an upper-level trough dipping down the Rockies.
Finally, elevated fire risk is expected across the high elevations of southern California and parts of the northern High Plains, due to dry and windy conditions.
Kong
---
News that Impacts You
---
---
---
A show that highlights organizations and individuals doing wonderful things for those in need or their community.