Sunday Nov 15th- Morning Weather – Lerner and Rowe Turkey Giveaway – The Bill and Kali Show Schedule Brought to you by Lerner and Rowe and Dutch Farms
NWS – Weather for the Chicago and Michiana Area
---
Forecast
Kind of a miserable morning with a wintery mix of rain and now before noon with a high of 40 with some pretty intense winds clocking in with gusts up to 50 mph. Tonight clearing but cooling down to 33 with wind gusts up to 40 mph. The start of the work week looks good with sunny skies with highs of 49 Monday and 42 Tuesday. Thursday we could see highs up into the 60s under partly sunny skies. Next chance of precipitation with be Friday
Today Rain and snow showers, mainly before noon. Temperature falling to around 40 by 11am. Windy, with a west wind 20 to 25 mph increasing to 25 to 30 mph in the morning. Winds could gust as high as 50 mph. Chance of precipitation is 80%. Little or no snow accumulation expected. Next chance of precipitation will be Friday.
Tonight Mostly cloudy, then gradually becoming mostly clear, with a low around 33. Breezy, with a west wind 15 to 25 mph, with gusts as high as 40 mph.
Monday Sunny, with a high near 49. Southwest wind 10 to 15 mph, with gusts as high as 25 mph.
Monday Night Mostly clear, with a low around 32. Northwest wind 10 to 15 mph, with gusts as high as 20 mph.
Tuesday Sunny, with a high near 42.
Tuesday Night Mostly clear, with a low around 29.
Wednesday Sunny, with a high near 49.
Wednesday Night Partly cloudy, with a low around 42.
Thursday Partly sunny, with a high near 60.
Thursday Night Mostly cloudy, with a low around 47.
Friday Mostly sunny, with a high near 59.
Friday Night A slight chance of rain. Mostly cloudy, with a low around 45.
Saturday A chance of rain. Mostly cloudy, with a high near 55.
---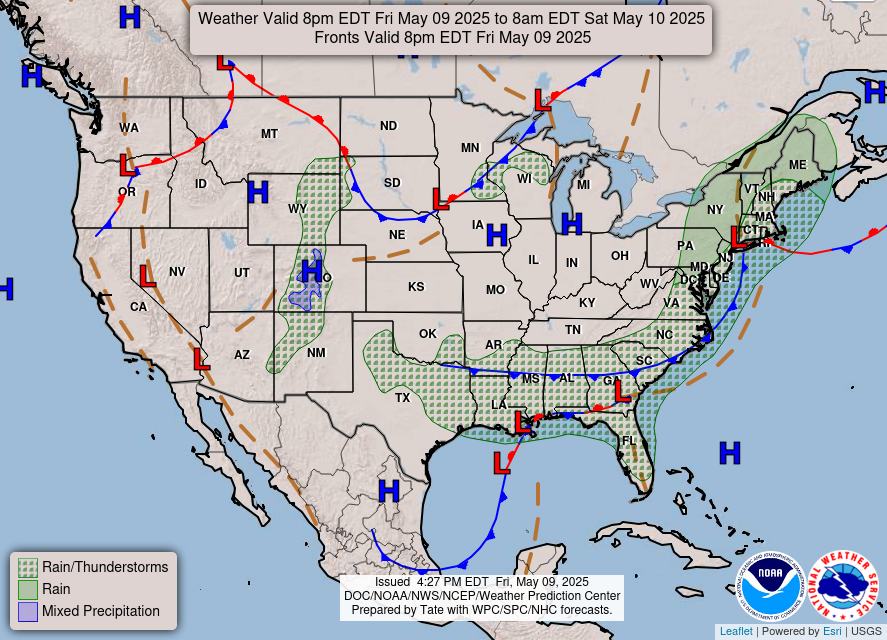 National Short Term Outlook
A frontal system will spread precipitation and gusty winds to central and eastern parts of the U.S. today. A surface low pressure system is forecast to move northeastward across the Upper Great Lakes today and tonight, sweeping a cold front quickly across the Ohio and Tennessee Valleys toward the Eastern Seaboard. A quick round of rain and thunderstorms is possible along and ahead of the front, and a few storms could be strong to severe across portions of the Mid-Atlantic region, where the Storm Prediction Center has outlooked a Marginal Risk. Some precipitation should be in the form of snow across the Great Lakes region to the interior Northeast, and light to moderate lake enhanced snow could linger there through Tuesday. In addition to the precipitation, gusty winds are expected. Wind Advisories are widespread across much of the eastern half of the U.S., with some High Wind Warnings embedded especially downwind of the Great Lakes. Temperatures ahead of the front should be 5 to 10 degrees above normal today in much of the East, cooling to a few degrees below normal Monday behind the front.
Unsettled weather continues over the Northwest. In the Northwest, a frontal system is forecast to slowly move into the region before dissipating tonight. Additional precipitation is possible, with snow in the Cascades, Northern Rockies, and Wind River Mountains/Tetons. Winter Weather Advisories remain in effect for those areas. Rain totals in lower elevations will likely be highest in far northwestern California and far southwestern Oregon today, and Flood Watches are in effect there. Then Monday into Tuesday, precipitation should mainly focus in Washington as the moisture plume moves northward ahead of another front approaching from the Pacific. A building upper-level ridge in the West should lead to warmer than normal temperatures across California, the Southwest, and the Great Basin on Monday.
Meanwhile, dry weather will continue in the central CONUS. Gusty winds could be a threat in the Central High Plains in particular, where High Wind Warnings remain in effect. Elevated fire weather conditions may also continue in central and southern portions of the High Plains today, as well as parts of southern California.
Tate
What's Happened on The Bill and Kali Show?
---
News that Impacts You
---
---
---
A show that highlights organizations and individuals doing wonderful things for those in need or their community.