Wednesday, March 11th. NEW CDC Reports & National Weather Service Outlook Live Forecast Feeds with Live Radar for Chicago, Michiana, Milwaukee, and Indianapolis. Brought to you by Les Cafe, SIP Coffee House and Promise You Art House Photo Courtesy of Addie Acres LaPorte IN
---
COVID-19 Cases Reported to CDC
CDC is responding to an outbreak of respiratory disease caused by a novel (new) coronavirus that was first detected in China and which has now been detected in more than 100 locations internationally, including in the United States. The virus has been named "SARS-CoV-2" and the disease it causes has been named "coronavirus disease 2019" (abbreviated "COVID-19").
On January 30, 2020, the International Health Regulations Emergency Committee of the World Health Organization declared the outbreak a "public health emergency of international concernexternal icon" (PHEIC). On January 31, 2020, Health and Human Services Secretary Alex M. Azar II declared a public health emergency (PHE) for the United States to aid the nation's healthcare community in responding to COVID-19.
Illness Severity
The complete clinical picture with regard to COVID-19 is not fully known. Reported illnesses have ranged from very mild (including some with no reported symptoms) to severe, including illness resulting in death. While information so far suggests that most COVID-19 illness is mild, a reportexternal icon out of China suggests serious illness occurs in 16% of cases. Older people and people of all ages with severe underlying health conditions — like heart disease, lung disease and diabetes, for example — seem to be at higher risk of developing serious COVID-19 illness.
Learn more about the symptoms associated with COVID-19.
There are ongoing investigations to learn more. This is a rapidly evolving situation and information will be updated as it becomes available.
Risk Assessment
Outbreaks of novel virus infections among people are always of public health concern. The risk to the general public from these outbreaks depends on characteristics of the virus, including how well it spreads between people; the severity of resulting illness; and the medical or other measures available to control the impact of the virus (for example, vaccines or medications that can treat the illness). That this disease has caused severe illness, including illness resulting in death is concerning, especially since it has also shown sustained person-to-person spread in several places. These factors meet two of the criteria of a pandemic. As community spread is detected in more and more countries, the world moves closer toward meeting the third criteria, worldwide spread of the new virus.
It is important to note that current circumstances suggest it is likely that this virus will cause a pandemic. This is a rapidly evolving situation and CDC's risk assessment will be updated as needed.
Current risk assessment:
For the majority of people, the immediate risk of being exposed to the virus that causes COVID-19 is thought to be low. There is not widespread circulation in most communities in the United States.
People in places where ongoing community spread of the virus that causes COVID-19 has been reported are at elevated risk of exposure, with increase in risk dependent on the location.
Healthcare workers caring for patients with COVID-19 are at elevated risk of exposure.
Close contacts of persons with COVID-19 also are at elevated risk of exposure.
Travelers returning from affected international locations where community spread is occurring also are at elevated risk of exposure, with increase in risk dependent on location.
CDC has developed guidance to help in the risk assessment and management of people with potential exposures to COVID-19.
---
Chicago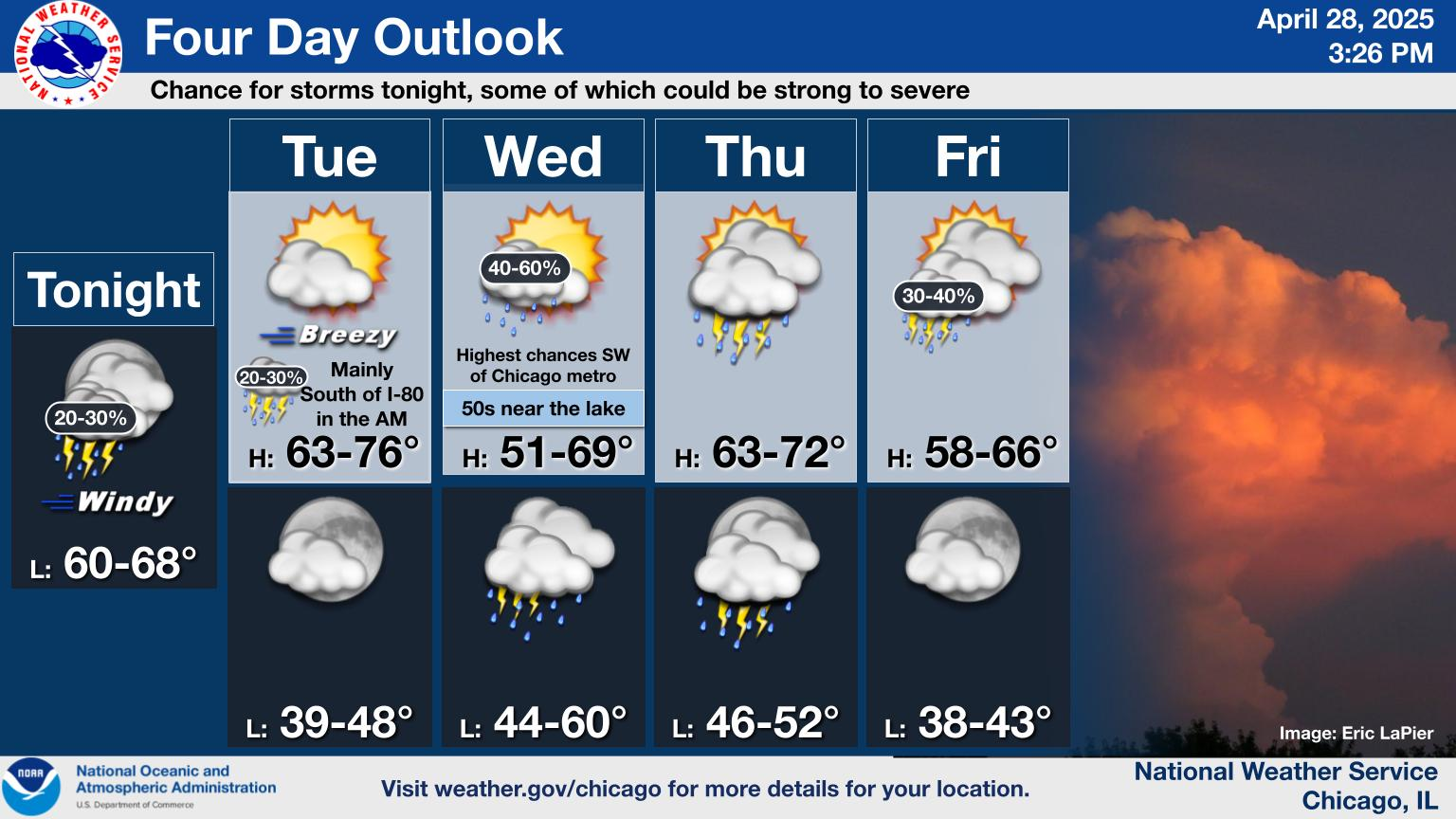 ---
---
Michiana
---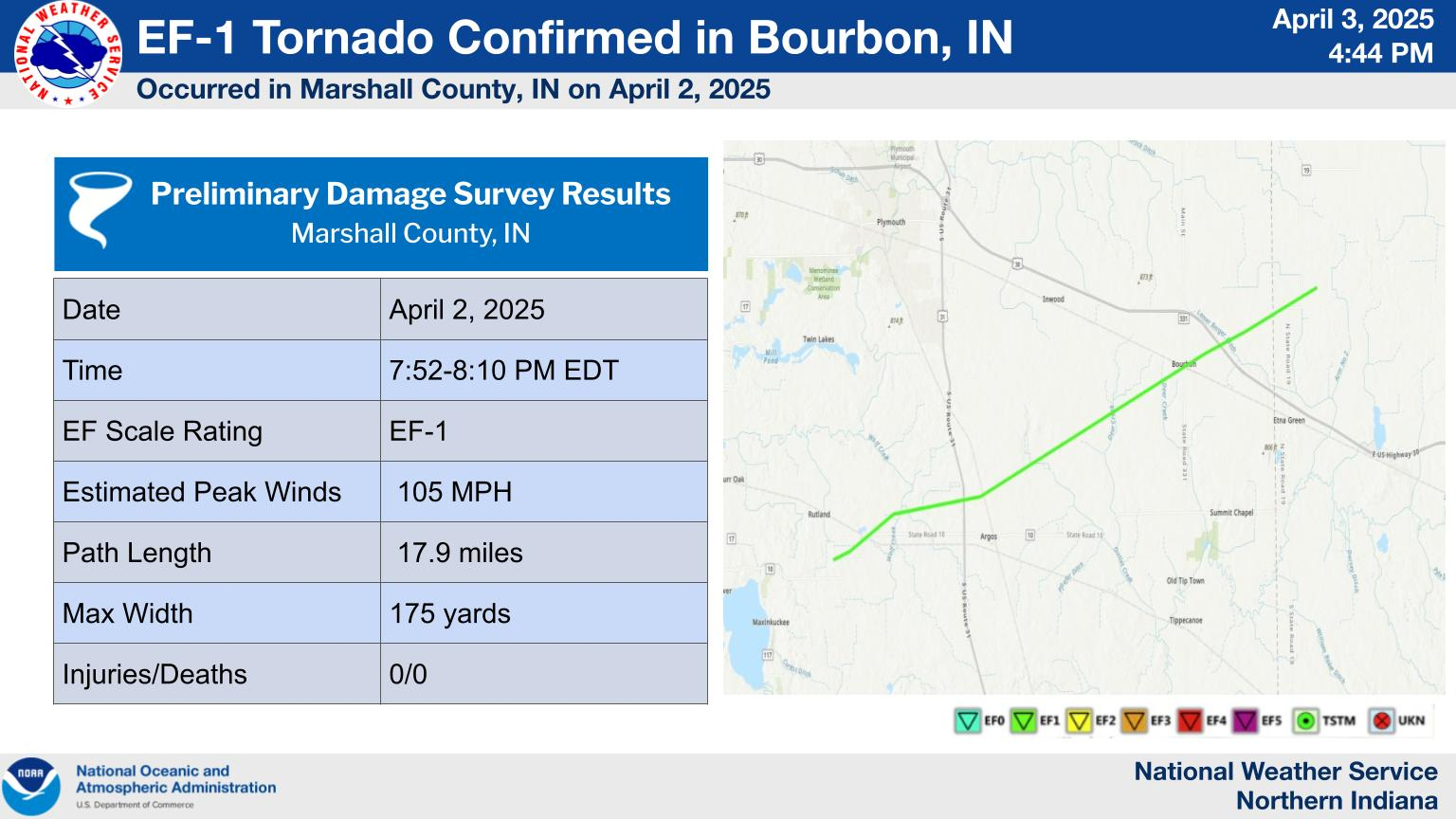 ---
---
Milwaukee
---
---
Indianapolis
---
---
National Weather Outlook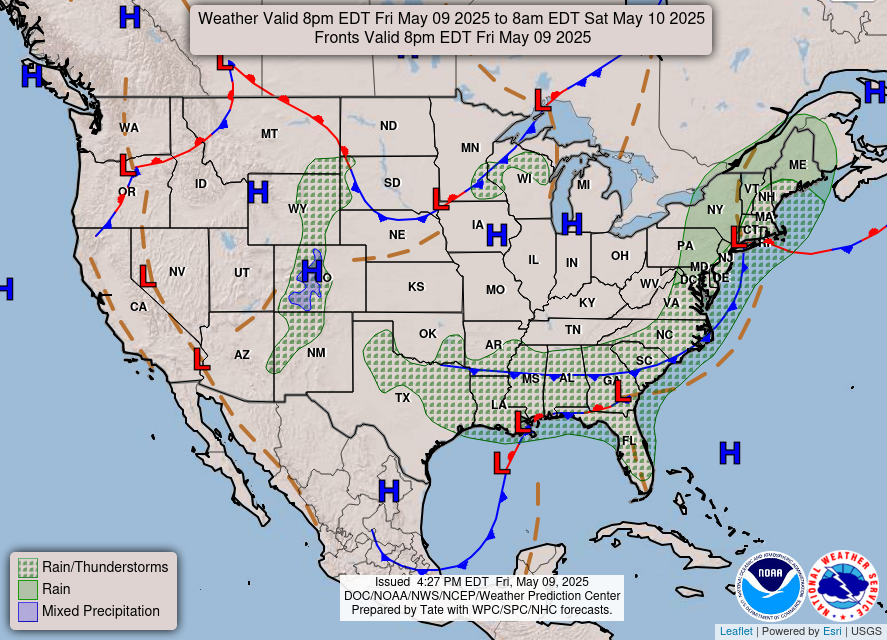 ---
---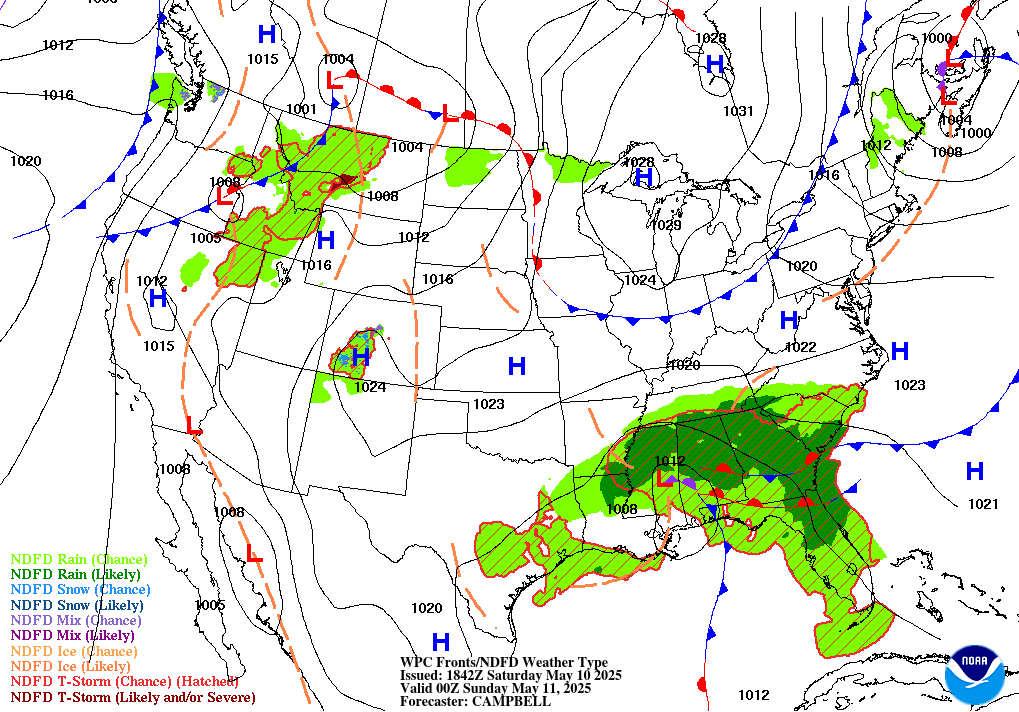 ---
National Discussion and Travel Weather
By Ziegenfelder of the NWS
There is a slight risk of severe thunderstorms over parts of the Lower Mississippi/Tennessee Valleys
There is a slight risk of excessive rainfall over parts of Southern California and Arizona on Thursday into Friday morning
Temperatures will be 10 to 15 degrees above average over parts of the Plains
There is a Red Flag Warning over parts of the Central High Plains
First of all, much needed rain is currently spreading farther inland into the Southwestern U.S. ahead of an occluded cyclone approaching from the eastern Pacific. This first wave of moisture is bringing occasional heavy rain across southern California into the Desert Southwest. By Wednesday, the bulk of the moisture will move farther inland across Arizona with a slightly lower chance for heavy rain on Wednesday. However, a second wave of moisture is expected to move toward the Desert Southwest from Northern Mexico later on Thursday. This will once again increase the potential of flash flooding Thursday evening into Friday morning as the chance of heavy rain increases area-wide.
Meanwhile, a cold front will bring mainly light rain for the East Coast through Wednesday morning. Farther west, a stronger upper-level trough will spread a period of mountain snow down the Northern Rockies through Wednesday. This upper-level trough is forecast to interact with a nearly stationary front across the Southern Plains to the Tennessee Valley to result in the development of a low pressure system in the Middle Mississippi Valley on Thursday. The same stationary front will be the focus for showers and thunderstorms over parts of the Lower Mississippi/Tennessee Valleys. Some of the storms may become severe on Wednesday. It appears that rain and thunderstorms will expand eastward across the Tennessee Valley into the Southern Appalachians on Thursday as rain chances increase and expand eastward farther north toward the Ohio Valley. Meanwhile, the upper Great Lakes will be cold enough to support wintry precipitation on Thursday as the low pressure system intensifies.

To keep up to date on our show schedule and view our past shows, like our Facebook Page The Bill and Kali Show or Subscribe to our YouTube Channel.
A show that highlights organizations and individuals doing wonderful things for those in need or their community.