Windy Throughout the Area. Michiana Showers Today PM and Friday AM. Thursday, March 5th. National Weather Service Outlook Live Forecast Feeds with Live Radar for Chicago, Michiana, Milwaukee, and Indianapolis. Brought to you by Les Cafe and Pancake House, Promise You Art House and SIP Coffee House. Photo Courtesy of Addie Acres LaPorte.
Chicago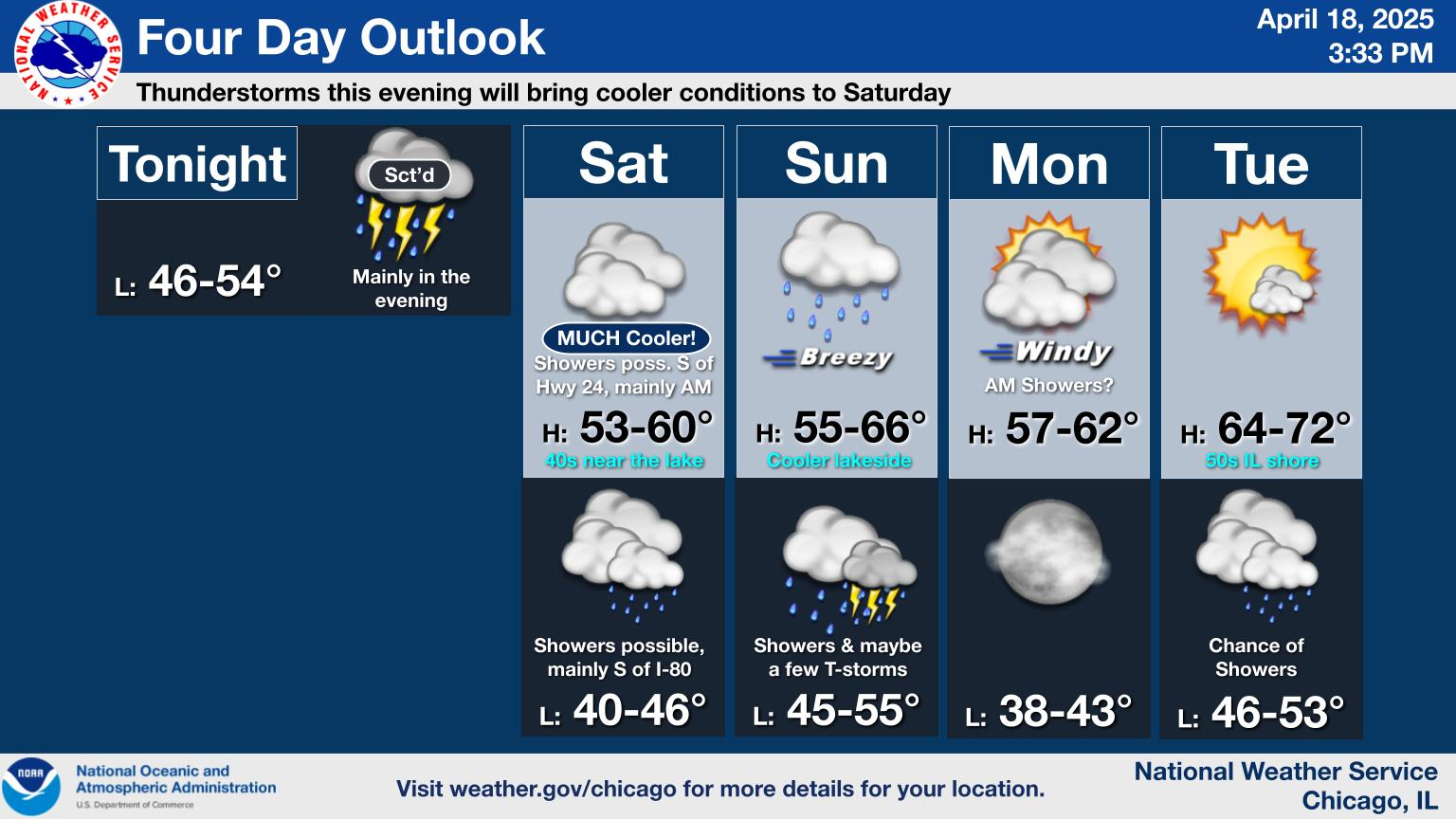 ---
---
Michiana
---
---
Milwaukee
---
---
Indianapolis
---
---
National Weather Outlook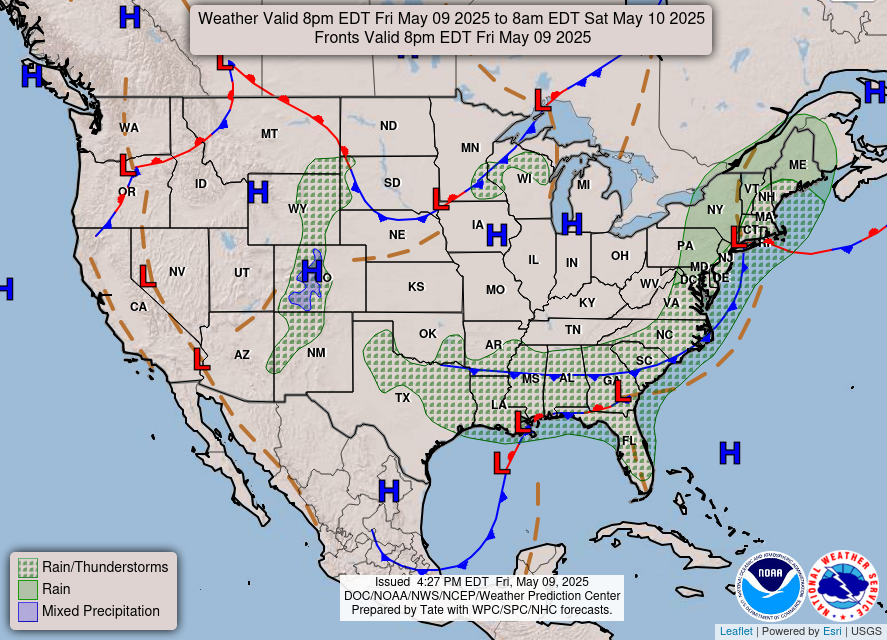 ---
---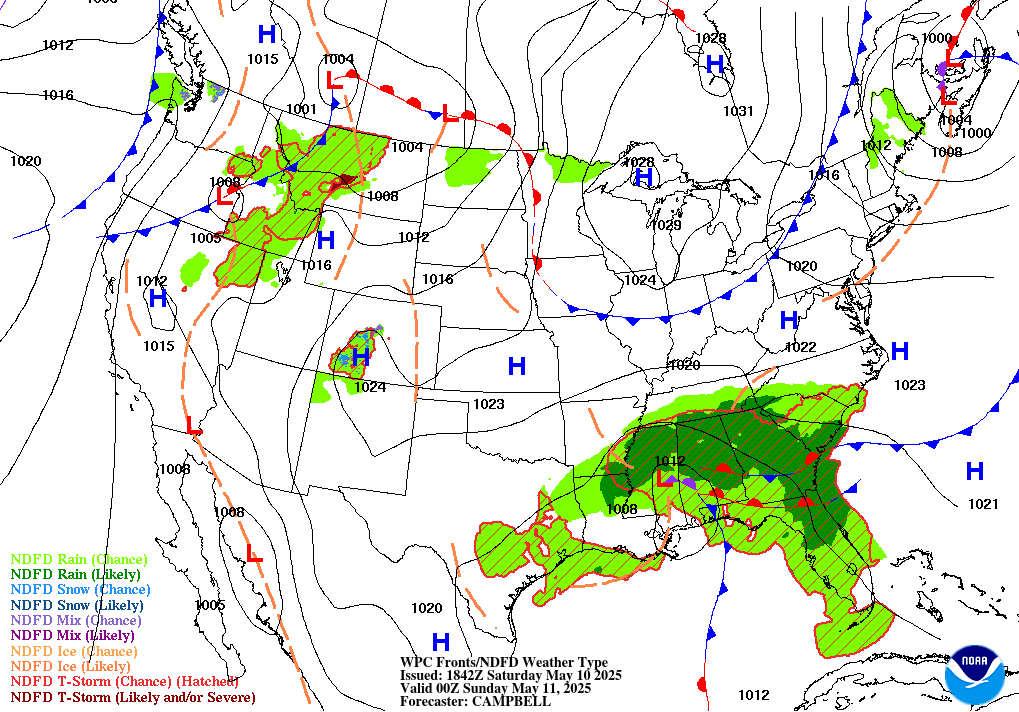 ---
National Discussion and Travel Weather
By Mullinax of the NWS
Severe thunderstorms and heavy rain will impact the Gulf states and the Southeast through Thursday night
Canadian low pressure system to produce snow across the northern Great Lakes today, wintry conditions over the eastern Great Lakes and interior Northeast on Friday
Showers and mountain snow arrives in the Pacific Northwest Thursday, warm temperatures in the Midwest this weekend
A surface low pressure system and stalled front draped along the Gulf Coast will be the focus for numerous showers and thunderstorms today from the Lower Mississippi Valley to the Southeast. A nearly continuous feed of sub-tropical and Gulf moisture over this frontal boundary will help fuel organized thunderstorms from the Lower Mississippi Valley to the southern Mid-Atlantic and Southeast. The Storm Prediction Center has Slight Risks for severe weather in effect over southern Georgia, southeast Alabama, and northern Florida. WPC maintains a Moderate Risk over far eastern Mississippi and central Alabama through early morning where 1 to 3 inches of rain is possible. Rapid runoff, urban ponding and localized flash floods will be more prevalent over this region. The Slight Risk area shifts to parts of Georgia, South Carolina and southern North Carolina Thursday into Night with another 1 to 2 inches of rain expected. By Friday, a drier and cooler stretch of weather will settle in across the south and persist into the upcoming weekend.
A low pressure system will track into the Upper Mississippi Valley and Great lakes regions today and the Northeast on Friday. On the northern and western flanks of this storm system, a cold front will push southward leading to an injection of colder air along and east of the Mississippi River by the start of the weekend. This will lead to wintry weather, most notably across the Upper Peninsula of Michigan where precipitation enhancement from Lake Superior will aid snow accumulations of 6 to 12 inches of snow. The best chances for snow in the Northeast and Mid-Atlantic will be in the Appalachians with light accumulations possible. Additionally, there will will be coastal rains for the northern Mid-Atlantic while some snow may mix in with the rain in portions of southern New England.
In the West, a system from the northeast Pacific will move onshore Thursday, bringing multiple rounds of rain and mountain snows to the Pacific Northwest spreading into the interior Northwest by Friday. Snow will be heavy at times, especially for the highest peaks of the Cascade and Olympic Ranges. For much of the Southwest and the Plains, mild and dry conditions are expected to continue. By the weekend, much of the Midwest will see temperatures anomalies ranging between 10 to 20 degrees above normal.

To keep up to date on our show schedule and view our past shows, like our Facebook Page The Bill and Kali Show or Subscribe to our YouTube Channel.
A show that highlights organizations and individuals doing wonderful things for those in need or their community.