Wednesday, March 4nd. National Weather Service Outlook Live Forecast Feeds with Live Radar for Chicago, Michiana, Milwaukee, and Indianapolis. Brought to you by Lerner and Rowe. Photo Courtesy of Addie Acres LaPorte.
Chicago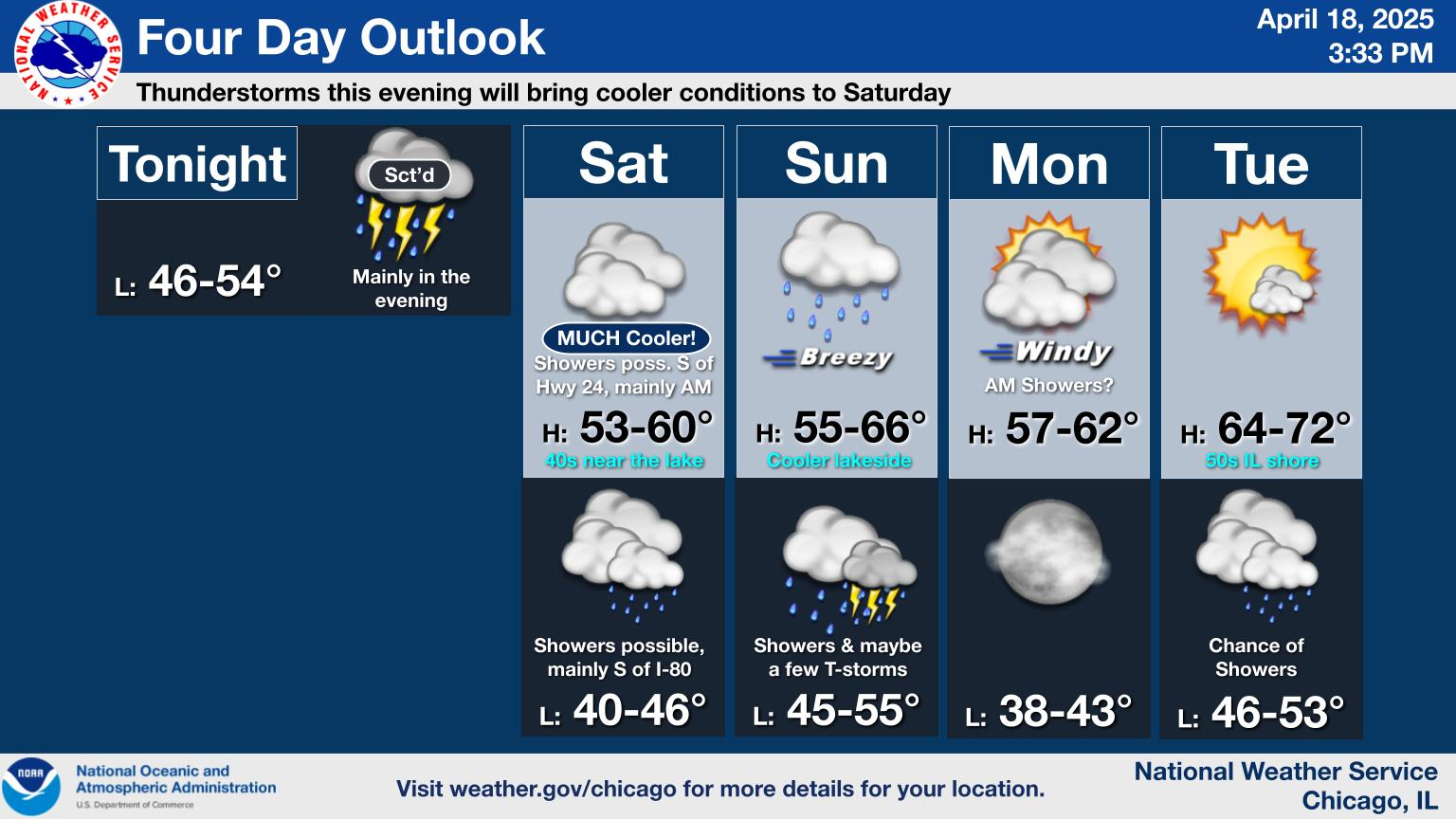 ---
---
Michiana
---
---
Milwaukee
---
---
Indianapolis
---
---
National Weather Outlook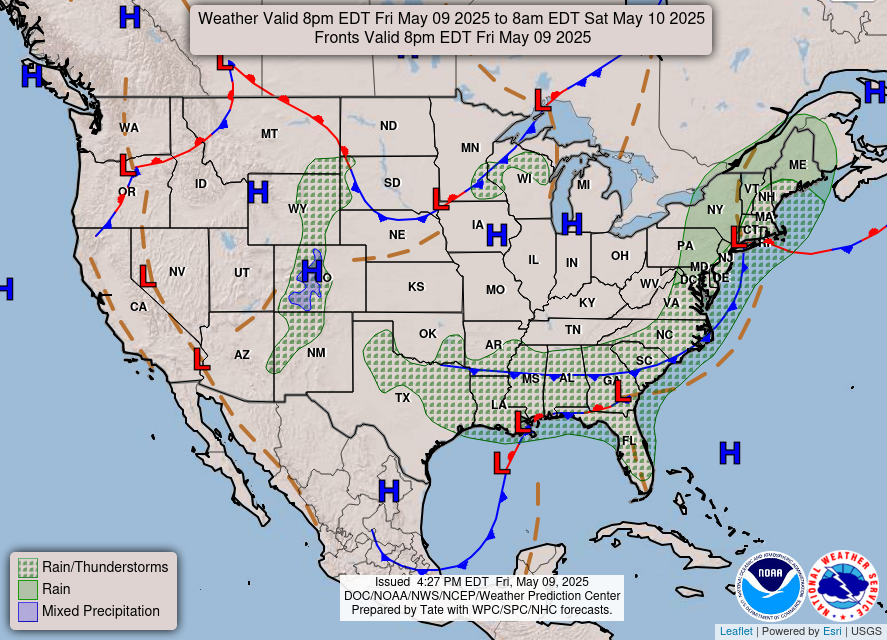 ---
---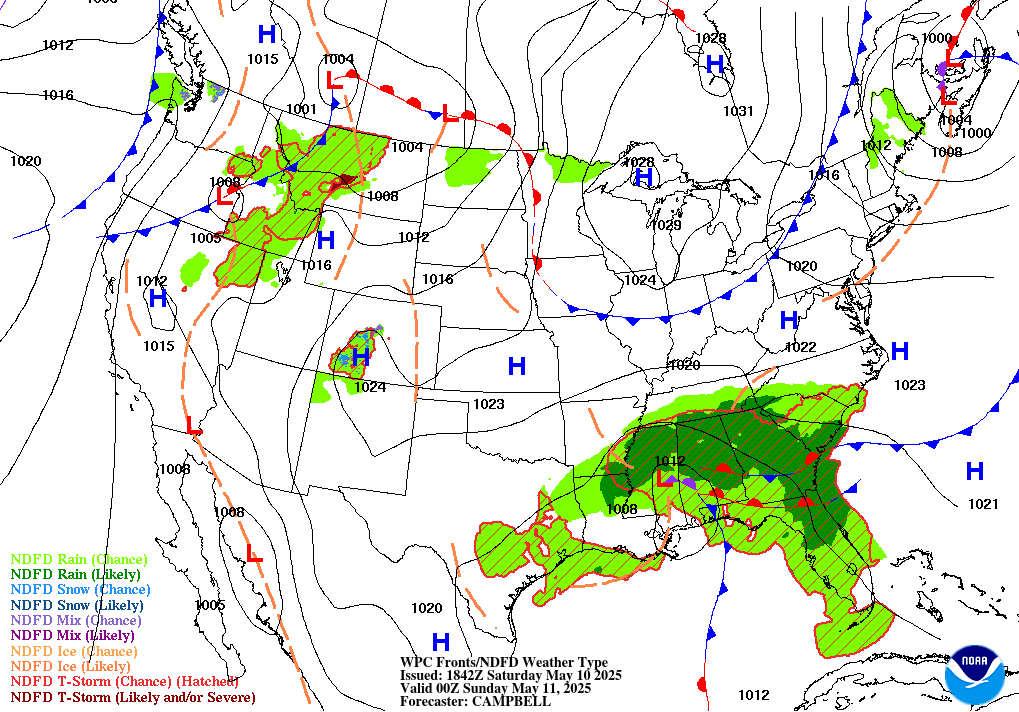 ---
National Discussion and Travel Weather
By Mullinax of the NWS
Moisture rich southern storm system to produce heavy rain today and Thursday, including the potential for severe weather and flash flooding from the Southern Plains to the Southeast
Canadian low pressure system to produce snow across the northern Great Lakes Thursday, wintry conditions over the eastern Great Lakes and Northeast on Friday
Another round of showers and mountain snow arrives in the Pacific Northeast Thursday
An evolving storm system over Mexico and Texas tapping into both subtropical Pacific and Gulf of Mexico moisture will generate areas of showers and thunderstorms from west Texas to the Southeast. Slight Risks for excessive rainfall and severe weather continue for portions of central Texas this morning. As thunderstorms blossom over the Deep South this morning, the potential for flash flooding and severe storms will also increase into this afternoon. As a result, both the WPC and SPC have issued slight risk areas across portions of the Gulf Coast states. The storm will track east along of a stalled frontal boundary draped over the Gulf Coast Wednesday night forcing heavy showers and thunderstorms to move into the Southeast overnight and into Thursday. In response, Slight Risks for severe weather and excessive rainfall have been posted for portions of the Carolinas, Georgia, and northern Florida. By Thursday night, precipitation associated with this storm will begin to wind down across the South with only a few thunderstorms passing through southern Florida by Friday morning. The heaviest rainfall totals from this system will be found over southern Alabama and Georgia where rainfall totals of 3 to 5 inches are forecast through Thursday night.
Meanwhile, an area of low pressure taking shape over the lower Canadian Prairies will move into the Upper Midwest Wednesday night. In advance of the storm, snow will fall across the Upper Midwest and the northern Great Lakes late Wednesday into Thursday. As an upper level trough associated with this system dives south and east towards the Northeast on Friday, colder temperatures will also filter southward behind a passing cold front, leading to a combination of rain showers along the coast and snow showers in the central and northern Appalachians. Some accumulating snow in parts of the interior Northeast is possible Friday evening.
Out west, after a wet and snowy start to the day in the Pacific Northwest, a brief lull in storm systems will occur the second half of Wednesday and much of Thursday. A new Pacific storm will usher in another round of showers and mountain snow late Thursday. Spotty showers and locally heavy mountain snow, particularly in the Cascades and Olympic mountains, will continue into Friday.

To keep up to date on our show schedule and view our past shows, like our Facebook Page The Bill and Kali Show or Subscribe to our YouTube Channel.
A show that highlights organizations and individuals doing wonderful things for those in need or their community.