Milder Temperatures and Rain this Evening – Sunday, March 1st. National Weather Service Outlook Live Forecast Feeds with Live Radar for Chicago, Michiana, Milwaukee, and Indianapolis. Brought to you by Brown Insurance. Photo Courtesy of Addie Acres LaPorte IN
Chicago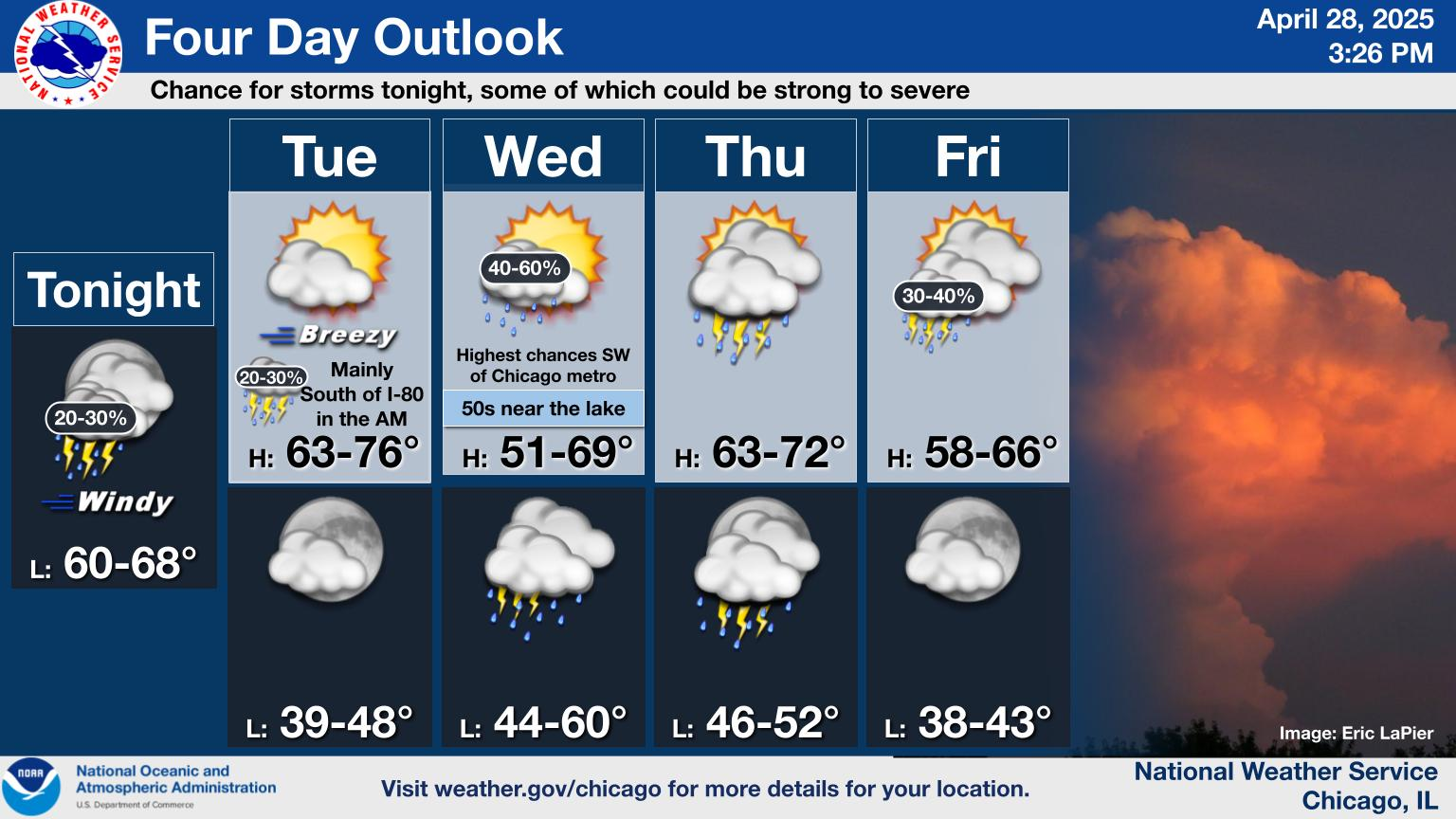 ---
---
Michiana
---
---
Milwaukee
---
---
Indianapolis
---
---
National Weather Outlook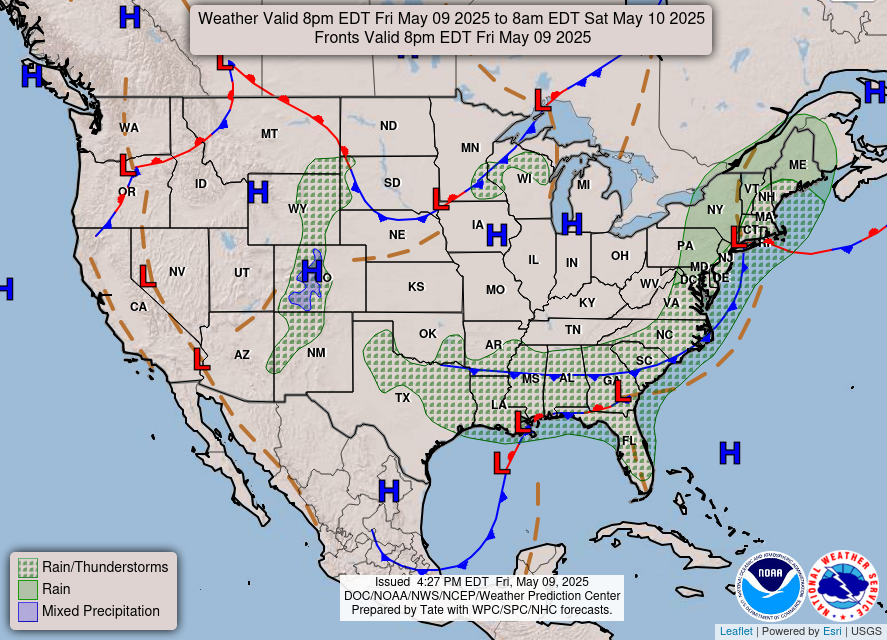 ---
---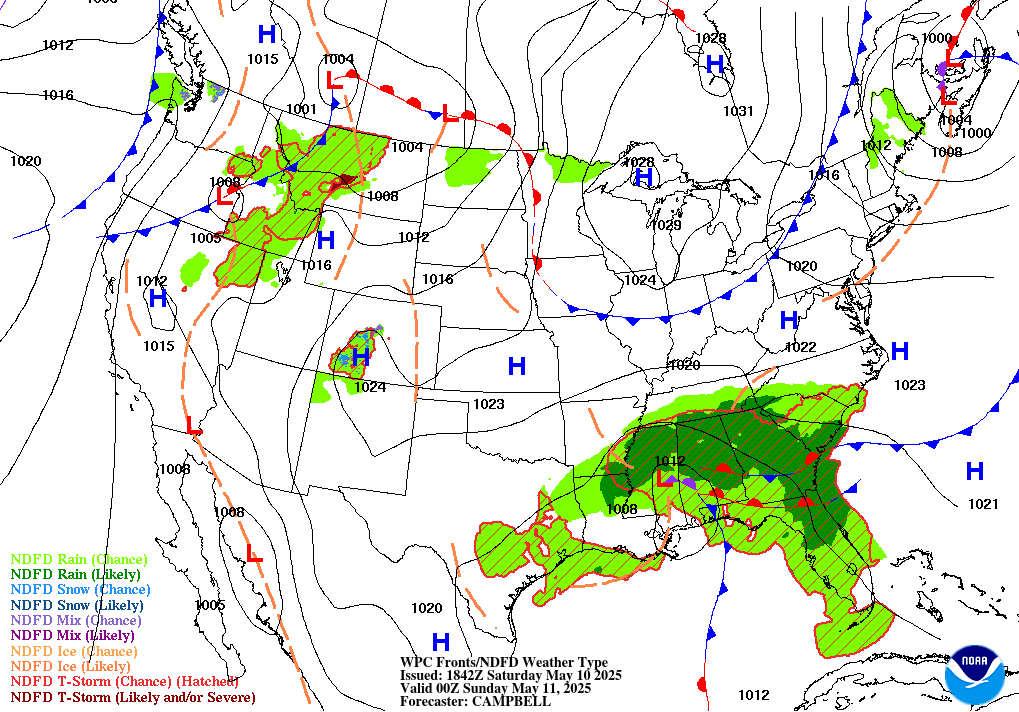 ---
National Discussion and Travel Weather
By Mullinax of the NWS
Mountain snow and cooler temperatures to overtake the Rockies and Southwest
Rain and thunderstorms to increase in coverage across Lower Mississippi Valley and Deep South Sunday night and Monday
Spring like temperatures to engulf much of the eastern U.S
An upper-level trough will track south along the West Coast Sunday and across the southwestern U.S. the first half of the week. The primary impact from this system will be snow, particularly across the higher elevations in the West. Snowfall totals are forecast to accumulate 6 inches with potentially exceeding a foot in the Sierra Nevada, the Wind River Mountains, Wasatch, and the Central Rockies through Tuesday morning. Lighter snow accumulations are expected along the Mogollon Rim. Below normal temperatures will also be common in the Intermountain West and the Southwest with daytime highs falling as low as 10 to 20 degrees below average.
As the trough slowly progresses eastward, moisture from the Pacific and from the Gulf of Mexico will combine to produce rain and thunderstorms beginning Sunday night and continuing into Monday. Roughly an inch or more of rainfall is forecast for much of the Tennessee Valley and portions of the Deep South. Unfortunately, this just the start of a very wet week as the heavy rain threat is forecast to extend into midweek across the Deep South and mid-Mississippi Valley with the localized flooding and severe weather possible mid-week. Additionally, showers will extend northward into the central Appalachians and the Northeast late Monday and into Tuesday. Northern New England may see a brief period of wintry mix Monday afternoon.
While the Southwest and Rockies experience cooler temperatures, the Nation's Heartland and much of the eastern U.S. will witness more spring-like temperatures. By Monday, portions of the Northeast will see high temperatures reach the 60s while some in the South-Central U.S. see temperatures soar into the 70s. By Tuesday, mild temperatures will expand up and down the East Coast with high temperatures forecast to range between 5 to 15 degrees above normal. Farther west, look for California's temperatures to also rebound to above normal levels by Tuesday.

To keep up to date on our show schedule and view our past shows, like our Facebook Page The Bill and Kali Show or Subscribe to our YouTube Channel.
A show that highlights organizations and individuals doing wonderful things for those in need or their community.